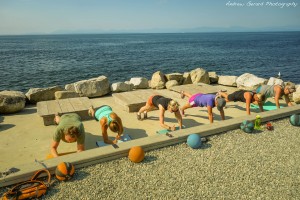 SMALL GROUP TRAINING
Monday
Wednesday
Friday
9:15am
Bootcamp

9:15am
Bootcamp

9:15am
Bootcamp
Are you looking for an exciting and super FUN way to get back into shape? Want to lose that last 5-10 pounds Do you need a new challenge to take your fitness to another level? This adventure is right for you. Increase your metabolism, core strength, cardio, balance and flexibility. Cross training is the fastest way to take your fitness to a whole new level! Using a wide varieties of fitness modalities every class will be a circuit with the use of swiss balls, belly laughter, medicine balls, exercise tubes, athletic drills, core exercises and inspiring music.
ITEM
PRICE (payable in cash or cheque)
Bootcamp Drop-in

$20
Unlimited Bootcamp
minimum of 3 months commitment
$300 for 3 months
Payment plan
$99 per month Post dated cheques
Save $204
10 Class Punch Card 9am-10am Bootcamp
Expires in 6 months
$170
*All classes are cancelled on holidays
 604-989-9642 or email: sharontron@gmail.com

Private Personal Training
Sharon offers a uniquely exclusive and private one-one-on personal training experience in a friendly, professional, non-threatening environment either in a private studio or the comfort of your own home.  You will be guided, motivated and offered continued support towards quickly achieving real results and realizing your fitness and nutritional goals.
Enjoy enhanced energy levels
Improve your endurance and strength for sports
Shed excess body fat
Gain lean muscle mass
Define your own goals and succeed
Testimonials:
In the past 40 years of my fitness and during the years I was working in the fitness field I truly believe Sharon is one of the top fitness instructors I've worked out with. Whether it be yogurt Bootcamp Sharon's knowledge surpasses most. Safety is always important for me as I never want to be injured. The reason I come back is because Sharon makes it hilariously fun. Sharon makes me work hard and laugh at the same time almost cried. Sharon is the best!
Carol Jennings 60 years old
Sharon's enthusiasm and encouragement along with the wicked workouts keep me coming back for more.  I love bootcamp because every class is different with focus on specific elements like strength, cardio and just sweating it out!  The camaraderie of the participants makes the hour go fast and a lot of laughs are interspersed with the exercise.  Sharon is also great at giving a variation of an exercise if you have things like bad knees (like me).  I credit bootcamp with keeping me healthy and fit and at 63 years old I can keep up with people half my age- and that's a great feeling!
 Sherry MacDonald
 Sharon's bootcamp has changed my life!! Every work out is different so you never get bored… not only will you sweat buckets, you will be supported by an amazing group of positive hilarious peoples! Highly recommended!
Bro Gilbert
Sharon is great her enthusiasm and attitude every time is just what you need some mornings! I have been going for 4 years now and I still love it!
Mel Foody