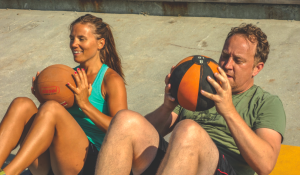 With 20 plus years experience teaching others the benefits of health & wellness, Sharon Tron Can-Fit Pro certified Personal Trainer can you help you attain greater fitness and health awareness. Whether your focus is on fat loss, cardio-conditioning, muscle-conditioning, flexibility or a combination of all of these, I strive to make your session as individualized as possible, effective and lots of fun!
Personal Training is a wonderful opportunity to have personalized one on one attention. They give you a chance to ask lots of questions and get lots of answers! Private sessions also give you the experience of having a practice designed just for you, with your goals, strengths, weaknesses, and special considerations in mind; this is often especially helpful for beginners, people with injuries, or other unique circumstances.
Guidance ~ Your teacher will provide you with the knowledge and tools that will change your practice forever.
Motivation ~ We can all use a little encouragement. You'll do things you never thought you could.
Variety ~ Only by varying your workouts every few weeks can you achieve optimal results. Don't get stuck in a rut.
Fun ~ Your teacher will design a program that will keep you coming back for more.
Results ~ Tired of wasting time? Make an investment in yourself and achieve the goals you've always dreamed of.
Below are some common reasons why people seek personal training:
• You're a beginner and you want to get started without being overwhelmed or intimidated.
• You have injuries (e.g. back, neck, knee, shoulder) or health concerns (e.g. women's issues, stress, arthritis, chronic headaches, insomnia).
• You are recovering from an illness or have an injury.
• You want to work more in-depth or go to the next level in your sport.
• You want to work toward a specific physical goal such as increased flexibility, balance, or strength; or target problem areas like tight hips or hamstrings or weak knees.
• You want to learn more about yourself—gaining awareness without judgment.
• You are so busy you cannot find time to attend a scheduled class.
• You get easily distracted or feel competitive in a group class.